GN Solids Control makes mini size Sludge Vacuum Pump, the mini vacuum pump can be used to suck and transfer liquid, solids, powder, rocks, sands, oily sludge, non-oily sludge, and transferred to long distance.
GN Solids Control mini size Sludge Vacuum Pump is equipped with tires for easy movement at job site. While Solids Control mini size Sludge Vacuum Pump is used as vacuum cleaner, GN Solids Control will offer 3 types of suction head to suit for various type of industrial waste clean-up jobs.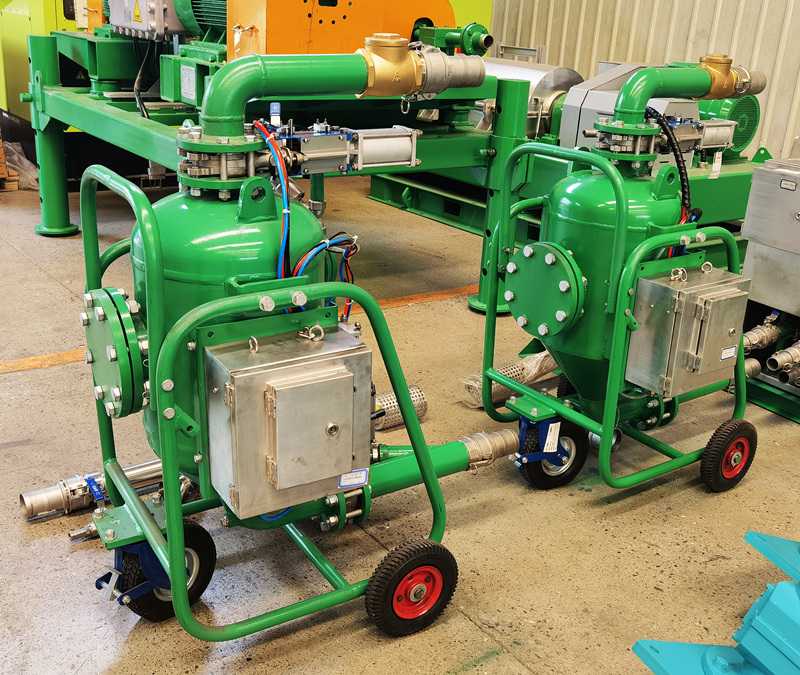 GN Solids Control Mini Vacuum Cleaner is designed for industrial tough clean-up jobs. The mobile and lightweight suction tools make it efficient for the operation. The vacuum cleaner is air-operated to produce high vacuum for the suction and it can manual switch to positive pressure to discharge. Moreover, operators can set up the suction and discharge time to make it suction and discharge automatically.
Clients can choose the Suction hose length per job site situation. Most clients will choose 10m suction hose. The 10m suction hose is composed of 2 pcs 5m hose. The suction hose is 3 inch. GN Solids Control equips DN80PN10 type E stainless steel camlock at both ends of each suction. Clients are easily to increase or reduce the suction length by choosing the hose quantity. The suction hose is negative pressure hose, which should be able to withstand negative pressure of 85kpa. And the internal of the rubber hose must be good for wear resistance.
GN Solids Control Sludge Vacuum Pumps are 100% air operated. There is no electrical components. It is the safest in the industry, explosion proof and suitable for zone 1 applications. Besides, there is no internal workings / moving parts on the pump. It means more stable and less maintenance.
GN Solids Control make electrical motor driven centrifugal pump, screw pump, vertical slurry pump, screw conveyor to meet more various type material transfer. Clients can choose the transfer device based on his material situation and his demands. And also, clients can contact GN Solids Control sales team, tell them their demands. GN Solids Control will recommended them the most suitable solution.