GN Solids Control makes various sizes drilling mud cleaning system, as well as mixing systems. The most popular size mud recycling and mixing system are 200GPM, 500GPM and 1000GPM.
GN Solids Control has standard design mud cleaning system to offer customer fast supporting. And also, GN Solids Control can make customized mud system according to clients special requests.
Recently, GN Solids Control just finished 2 sets high standard mud cleaning system for HDD rigs. The capacity of the systems are 1000GPM and 500GPM. They are customized for SINOPEC international projects. The high standard of the 1000GPM and 500GPM system design enable the maximum liquid recovery of drilling activities, and it further can reduce the wastes volume.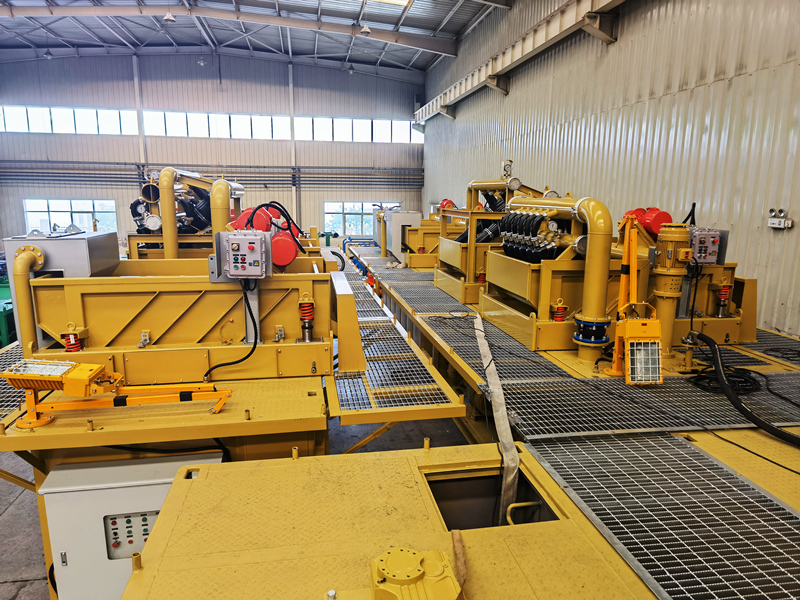 Below are the major equipment list of the 1000GPM and 500GPM high standard mud recycling system complete with mixing unit.
GN Solids Control is capacity to make customized mud treatment system to suit for clients' demands. You can contact GN engineer team to ask for support.
The 1000GPM high standard HDD system includes:
1. 2 sets of linear motion Shale shaker, Model GNZS703F. It is a 3-panel shale shaker.
2. Desander mud cleaner. It is composite of 2 × 10 inch desander cone and a GNZS703F under flow shale shaker
3. Desilter mud cleaner. It is composite of 12 × 4 inch desilter cone and a GNZS703F under flow shale shaker
4. A high speed 22 inch big bowl decanter centrifuge with a chemical dosing unit. Mostly, clients choose 18 inch middle speed decanter centrifuge to ultra fine solids removal in HDD mud recycling system. But in the project, the client requests a bigger bowl centrifuge with bigger volume and high speed. It can greatly improve the ultra fine solids removal result.
5.  A separate mixing unit is equipped for the 1000GPM mud system.
6. 4 mud tanks with pipelines and accessories.
The 500GPM high standard HDD system includes:
1. Shale shaker GNZS703F× 1 set
2. Mud cleaner. It is composite of 1×10 inch desander cone,  8×4 inch desilter cones, and a GNZS703F shale shaker
3. A middle speed 18 inch big bowl decanter centrifuge
4.  A separate mixing unit
5. 2 mud tanks