GN Solids Control is a famous manufacturer for high quality replacement shaker screens for different shale shakers. GN high quality composite material screens are all made from the first class materials. All screens are adopted with pretension before hot press. GN high quality pretension screens is with a better tension degree compare with OEM screens. It ensures a better lifetime of the screens.
GN Solids Control is also an international top class brand for solids control equipment, and drilling waste management equipment. GN Solids Control is with location in Beijing China, Houston USA and Moscow Russia. GN Solids Control manufactures top quality replacement shaker screens. GN Shaker Screen is tested by independent third party USA company according to API RP 13C(I-SO13501). . GN Solids Control replacement screens can suit for GN own brand shakers and all other major brand shakers for the drilling industry.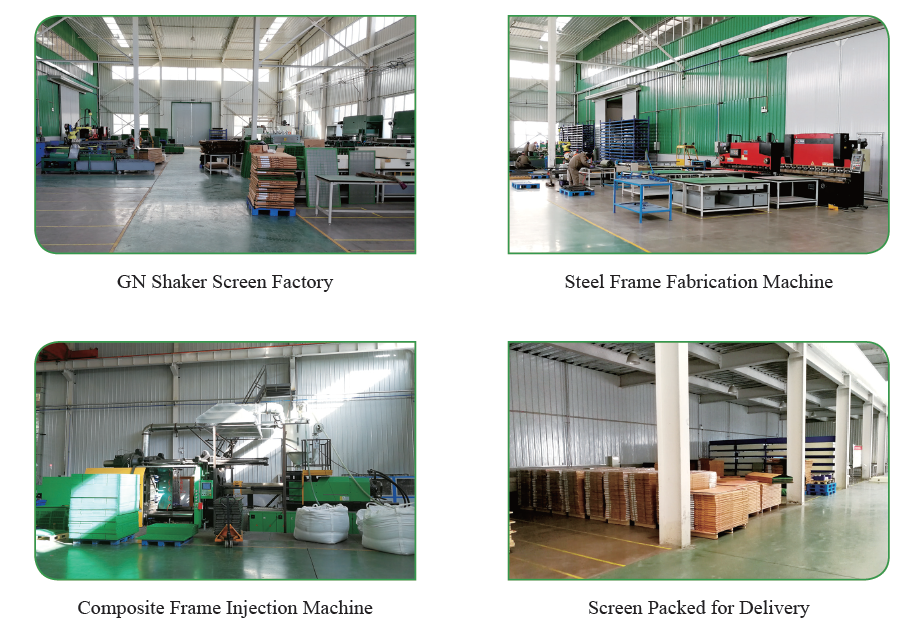 GN Solids Control owns the latest design production machine for the shaker screen manufacturing. The advanced processing equipment ensure a high efficiency manufacturing and reliable quality control.
Below are some of the process equipment GN Solids Control owns for shaker screen manufacturing: Composite Frame Injection Machine, Steel Frame Fabrication Machine, robot automatic welding machine, CNC machine for screen edge cut, hot press machines, packing machine, etc…
How to order the right size shaker screens:
Besides shaker model, API No. is another important parameter to ensure clients order the right size screens. API RP13C is the general standard for shaker screen manufacturing and labeling. API is short for American Petroleum Institute; "API Number" is determined by API RP13C or ISO13501. For different brand shaker screens, if the API size is the same, it means the screens can be interchangeable. The cut point is related to the combined 3-layer wire mesh test result. So before order, GN will need API number, or the cut point, to define a more proper shaker screen configuration.
GN shaker screen online shopping mall: http://gnsolidsmall.com/