GN solids control produced mud handling equipments and mud tanks are mainly used for cleaning and recycling the used driling fluids from the well bore. The mud handling equipments range including:
Shale shaker, mud cleaner, desander, desilter, vacuum degasser, chemical mixing unit, jet shearing unit, mud agitator, bottom mud gun, shear pump, decanter centrifuge, vertical G cuttings dryer.
The mud tanks range including:shale shaker tank, trip tank, intermediate tank, suction tank, mixing tank, reserve tank, chemical tank, etc.
The mud handling tank will be installed on the mud tanks as solids control system for the drilling rigs. The shale shaker we can supply including 3 panel screen shaker, 4 panel shale shaker, 2 panel shale shaker, double deck shale shaker with scalping shaker deck. The scalping shaker deck usually with coarse mesh size to separate big solids, it could protect the main shaker screen and increase the cleaning performance.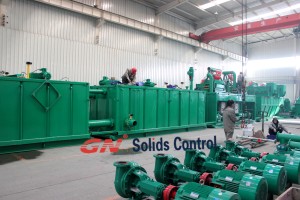 The mud cleaner we can supply including desander unit, desilter unit and 3 in 1 unit, the 3 in 1 unit is the combination of desander cone, desilter cone and bottom shale shaker. The bottom shale shaker could be single deck shaker or dual deck shale shaker. The desander cone quantity and desilter cone quantity could be choosed for different treating capacity, our standard model including 500gpm, 1000gpm, 1500gpm mud cleaner. When the bottom shaker is with double deck, we will call it desander unit or desilter unit, it is usually works for construction works, like bored piles, tunneling, etc. Centrifugal pumps work as feeding pump of the mud cleaners.
If you need mud handling equipments with mud tanks and drilling mud system, pls contact with GN solids control in Beijing, China or GN solids America in Houston, USA, we have the main mud handling equipments in stock for immediate shipment.