GN Solids Control makes vacuum type degasser and centrifugal type degasser for oil and gas drilling mud solids control system.
GNLCQ300A centrifugal degasser is a new type degasser. The centrifugal degasser is designed to treat gas cut drilling mud in solids control system. Normally the degasser is used after shale shaker. It is widely used in various solids control system, and it is very important for recovering mud weight, stabilize mud viscosity performance, reduce drilling cost.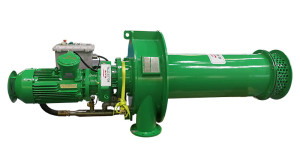 GNZCQ Vacuum Degasser is a special-purpose deviceto treat gas in the drilling fluids. Vacuum Degasser can remove various gas invasive in drilling mud quickly. Vacuum degasser is very important for returning mud gravity, stabilizing mud viscosity and reducing drilling cost. Also, also, the vacuum degasser can be used as a heavy-duty agitating device. Vacuum degasser is widely used in all types of mud circulation and purification system. GN vaccum degasser is with a compact design. And it is able to achieve an effective gas liquid separation.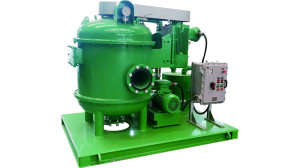 This week, a client is going to issue orders to buy GN Vacuum Degasser. They are interested in the Model GNZCQ270B for processing capacity 1200GPM. They prefer GN vacuum degasser. As GN Vacuum Degasser is a self-contained unit. The unit is no need feeding pump.
But they have question especially for the self-feeding pump data & NPSH of the pump. Because the suction line the client will be use will be a 5 m horizontal pipe with 2 ea elbow 90 degree from the suction point to vacuum degasser equipment.
The pump in vacuum degasser is vacuum type pump with Negative pressure.  NPSH is net positive suction head. NPSH is not applicable for vacuum pump.
GN Solids Control confirms the client that, GNZCQ270B can meet the client's situation: suction line will be 5m horizontal pipe with 2 elbow 90 degree from the suction point to vacuum degasser equipment. But lifting distance (from liquid surface to pump) should be less than 2.5m.