Shale shaker is first stage solids control equipment in drilling mud purification and recycling system. Shale shaker separator is also known as the major solids control equipment in drilling mud system. The performance of the shale shaker has big affection on performance of the entire solids control system.
A batch of shale shaker separators has been ready for shipment last week. The shale shakers are ordered for a Russian client for their oil rig mud system. The shale shakers will be used to replace the old shale shakers in the client's old drilling mud solids control system.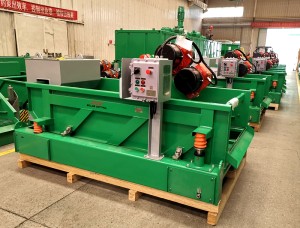 The shale shaker model for the project is the most hot sale 4-panel shale shaker. The shale shaker is equipped with high quality composite frame pretension screens. The composite frame pretension shale shaker screens are designed and made by the shaker manufacturer – GN Solids Control. It gives clients more benefits. As shale shaker screen is the most cost wearing spare parts for shale shakers, and even the most cost much wearing spare parts for drilling mud solids control recycling system. As GN Solids Control are both the shale shaker original manufacturer and the shale shaker screen manufacturer, clients can get better price supporting for shale shaker screens from GN Solids Control.
The composite frame pretension shale shaker screens can enable the shale shaker have a better and more reliable separation performance and longer screen servicing time under high temperature drilling mud.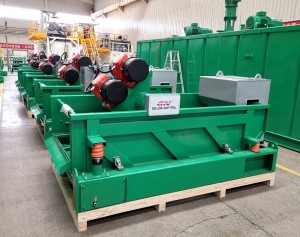 The composite frame pretension shale shaker screens are mounted by wedges. Unlike fixing screens by bolts, the wedge type is for easy operation. It helps the shale shaker operators to change replacement screens fast and easier.
Another advantages of GN shale shaker screen is that, the shaker deck angle changing system is Synchronous lifting adjustment. Synchronous lifting adjustment for shaker deck screw is GN patent design. The operators do not need to stop the shale shaker, but they can change shale shaker deck angle during the shaker is running. And when the operators change shaker deck angle from either side of the shale shaker deck, both side angle change be lift or fall on the exact same degree. It saves time. Time is money for activities.