Solids and sludge vacuum pump is one of the major transfer equipment designed and made by GN Solids Control. It is a 100% air driving pump for sludge and solids transfer, especially for long distance transfer in various fields and industries, like to transfer rocks for construction companies, transfer powder for chemical companies, suction oil sludge from waste pit and transfer to oil sludge treatment equipment, transfer contaminated soil for soil washing system, suck the oily slurry from crude oil tank after tank cleaning works, etc…
GN Solids Control has 3 sizes vacuum pump, GNSP-10B and GNSP-20B is a portable size vacuum pump with tires for easy movement. The smallest size vacuum pump GNSP-10B can also be used as a industry vacuum cleaner after changing the suction pipes and suction head, and upgrade the control panel for both auto-control and manual control.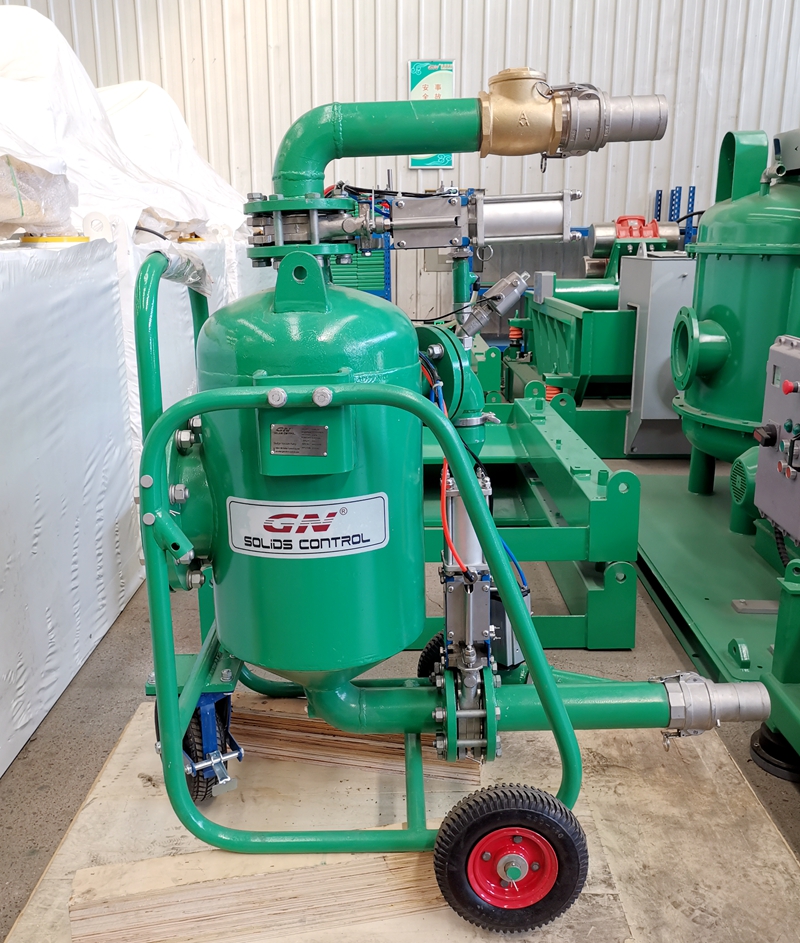 GN Solids Control solids and sludge vacuum pump is max. 8m vertical lifting height for suction as the limitation of air supplier. But the discharge distance can up to 500m.
While use for big size crude oil tanks, there are many crude oil tanks are very big size, the tank height is over 20m and over 30m. It is over the vauum pump suction height. What our other clients do is to put the vacuum pump inside the tank, they find a place inside the tank and fix the pump inside crude oil tank. In this case, they can reduce the suction height to not more than 8m.
Another way some clients may do is to insert the suction hose via the holes on the tank wall rather than from tank top to make the suction height less than 8m.
Besides solids and sludge vacuum pump, GN Solids Control makes other transfer equipment, like centrifugal pump, submersible slurry pump, screw pump, cuttings transfer pump, screw conveyor. Welcome contact GN Solids Control to inquire any transfer pump and separation equipment.