YES. The only reason is we have updated all our products to a new level, so for this old generation centrifuge, we offer some special discount. This do not mean you can get any other equipment on whatever the discount you are expecting.
This GNLW454 is a big bowl, also the value of ratio bowl length / bowl diameter, which is 4. All other popular centrifuges, GNLW363, Derrick DE2000, SWACO518, all of them the ratio is around 3. This ratio goes longer, the capacity goes a little higher, but the result goes dryer.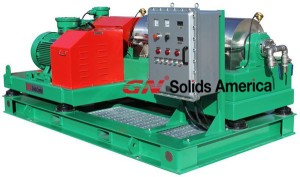 Highlights:
SS316L material.
Tunsten carbide tiles protected screw.
VFD drive avilable.
Control panel, all components from Siemens Schneider.
Can be working at 2500rpm, other speed package available.
Some information about GNLW363CG decanter centrifuge:
Treating capacity: 30cbm/h ( for water); 15-20cbm/h ( the actual capacity is pending on the drilling mud conditions and customer's request on result)
Bowl size: 360mm in diameter and 1271mm in length, the ratio is 3.
Application:
the high speed fixed speed centrifuge GNLW363CG can be working at 3200rpm/2700rpm/2200rpm, which can separate very fine solids, like solids control mud weight cutting, drilling waste management, drilling cuttings management.
The high speed variable speed centrifuge GNLW363CG-VFD , the speed can be changed continuously, no need to change pulley with belt, time saving and manpower saving. This centrifuge can be working perfectly for barite recovery, mud weight cutting etc.
GN Solids Control can offer solutions for oil gas drilling mud separation, environment protection projects, drilling waste management and so on. We get for sale products, but never reduce the quality level for all of them. Feel free to contact us if you are interested in this.
Related Arciels: