To prevent after-treated drilling mud separate by gravity while storage in the tank, it need mud agitator to perform consist mixing.  Mud agitator is function as assistant of whole solids control machinery system by provide continue rotate circulating force to maintain spec of treated drilling mud.
It contains simple structure setup of turbine decelerator.  Mud agitator is made in small size feather light weight and produce low noise yet strong mixing power.  The industry standard of noise is 90 dab and GN Solids America's mud agitator is excess the standard by suppress the noise level and maintain the reliable function of mixing the drilling mud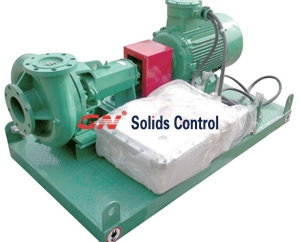 GN Solids America's mud agitator function in whole system were use mechanical function mud agitator which contain transfer device, shaft and impeller
There are two kind of set-up of mud agitator for the tank system.  The vertical and horizontal type can fit into custom tank system
GN Solids America consist improve the mud agitator performance by user's feed-back from the field. A large number of application based on the practice of developed, high efficiency, stirring intensity big, maintenance convenient highly competitiveness in the market of mud agitator.
Chinese leading solids control machinery manufacturer GN Solids Control supply the world's top oil drilling companies and service contractors with drilling mud agitator equipments. We are an exporter of drilling fluid mud agitator for major company in seven world region. Our factory and company are Quality Management System ISO 9001-2000 certified and first Chinese solids control machinery manufacture certified by American Petroleum Institute. GN Solids Control's Machineries operate international oil gas drilling mud separation system.  We provide single source of sales, service, manufacturing, distribution. Purchase with piece of mind for drilling fluid mud agitatorfrom Leading Chinese manufacturer. Your best mud agitator for drilling mud circulation system.
Related Arciels: