Hebei GN Solids control company LLC is China leading manufacturer for drilling mud solids control equipment and drilling waste management equipment. Its brand name is GN Solids Control.
GN Solids control offers one stop solution for drilling rig fluids, from mud solids control until the drilling waste management treatment system.
As the first API certified solids control manufacturer from China, GN Solids Control aims on China top market and the international market. 70% of GN Solids Sales is from international market. GN Solids Control keep improving to cater for the higher and higher request of the international market clients. With its fast development, GN Solids Control is among the leading solids control mafanucturers from all over the world and establish a famous brand: GN Solids Control.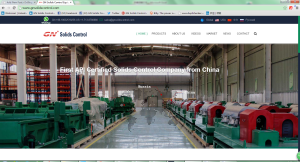 In order to offer a more efficiency services to clients, GN Solids Control upgraded its company website, to offer a better visual effect website. It can suit for the mobile reading equipment.
The new website of GN Solids Control is much more readable. And the new menus can hopes the visitors to find the suitable equipment and information more fast.
Further more, GN Solids Control upgrade its company logo. All equipment documents and new equipment will start to use the new logos from now on.
Below is some of the advantages of GN Solids Control
1) GN is the First API certified solids control equipment manufacturer coming from China.
2) GN Solids America LLC is the first USA based solids control company from China.
3) No. 1 in China for direct exporting of mud solids control and drilling waste management equipment. GN Products have been exported to over 60 countries and regions, with  partners and branches in USA, Australia, Latin America, Middle East, Africa etc.
4) GN  Owns over 10 patents for solids control and drilling waste management equipment.
GN offers one-stop and turn-key solution for solids control and drilling waste management.
GN keeps research and develop the best technology to manufacture top quality Shale shaker, mud cleaner, desander, desilter, vacuum degasser, mud mixing system, jet shearing unit, mud agitator, bottom mud gun, shear pump, decanter centrifuge, vertical G cuttings dryer for our clients.