OTC, as one of the most famous and professional exhibitions about the exploitation, production, environment protection of Oil & Gas on the world, is held in Houston City each year and attracts thousands of global customers in the Oil & Gas fields and relevant industries .
Houston City is called as the "Oil City of America" in Texas. From May 2 to 5, the 2016 OTC Exhibition will be held in Houston.
As a world-wide top manufacture of Solids Control Equipment and drilling waste management equipment, GN Solids Control has attended the OTC Exhibition for many years by taking its newest products each time. Here below are the pictures that GN Solids Control attended the OTC Exhibition in 2015.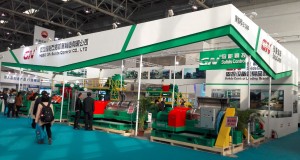 In 2016 GN Solids Control will absolutely not miss this opportunity to have much more contact with its global customers and learn customer requirements and continue to attend the OTC Exhibition. The latest and key products will be showed at this exhibition, such as the Mini Decanter Centrifuge, Shale Shaker, Vertical Cuttings Dryer, etc.
Since GN Solids Control was founded in 2007 year, the business has kept expanding fast and steadily. Even though in the past 2015 that the oil price is low and the world economy is suffering,  many of the drilling rigs are out of work, still GN achieved very good sales performance.
Compared with attending the previous OTC Exhibitions that GN Solids Control only has 1 exhibition booth, in order to show strength and have much more connection with the customers from global market by grabbing this opportunity, GN already booked 2 booths in 2016 OTC Exhibition.
The Booths Numbers are 1652-A & 9732.
By then, sincerely welcome all the customers from global market to visit GN Solids Control.
Besides, GN America LLC is also located in Houston, also sincerely invite all the customers to visit the company of GN America.
Finally, if you want to learn more about GN Solids Control, welcome to visit our website and contact us.
Web:http://www.gnsolidsamerica.com
Email:usa@gnsolidscontrol.com