Decanter centrifuge and disc centrifuge are widely used at oil sludge separation and waste water treatment. Especially in oil sludge separation system, decanter centrifuge and disc centrifuge are normally used together for 2-phase and 3-phase separation.
The decanter centrifuge is a kind of decanter discharge sedimentation centrifuge. After the liquid material enters into the decanter centrifuge via feeding pipe, the blades on the screw propeller push the solid phase in the material to the slag discharge port at the small end of the centrifuge bowl and discharge, and the liquid phase overflows through the overflow holes at the large end of the bowl. This process is repeated continuously to achieve the purpose of continuous separation.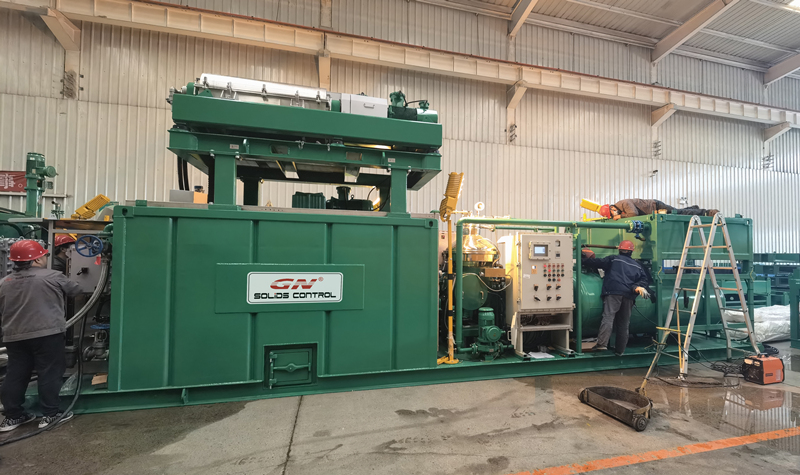 Decanter centrifuge is widely used at drilling mud treatment solids control system and drilling waste management system. The decanter centrifuge can be used for barite recovery and fine solids separation.
A disc centrifuge is a type of vertical centrifuge. The bowl of the disc centrifuge is installed on the upper end of the vertical shaft, and is driven by a motor to rotate at a high speed through a transmission device. Inside the drum, there is a set of disc-shaped parts that are nested together, it is called discs.
Below are the two major application conditions for disc centrifuges:
1. Liquid-solid separation (ie, the separation of the bottom concentration suspension), called clarification.
2. Liquid-liquid separation (or liquid-liquid-solid) separation (ie separation of emulsion), called separation operation.
GN Solids Control makes various sizes of decanter centrifuge and disc centrifuge. And GN Solids Control can make customized centrifuges to suit for clients' special demands.
Chemical dosing unit are widely used together with centrifuges for ultra fine solids dewatering treatment. Clients can choose liquid chemical or powder chemical, and sometimes clients need to use both liquid chemical and powder chemical to suit for the sludge situation. The GN Solids Control can offer skid mounted chemical dosing unit and containerized chemical dosing unit.